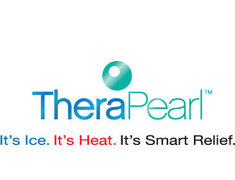 I have a lot of lower back pain so I'm always looking for the best products to give me some relief. I received
TheraPearl
's
Back Wrap to review and I'm soo glad I did. This thing is perfect for lower and upper back pain, torso/midsection injuries, ham and quad pulls, menstrual cramps and more. I warm the back wrap in the microwave for 55 seconds, wrap it around my waist and in no time the soothing heat starts giving me relief. It stays in place well and I don't feel weighted down by it. And, having a husband and four kids, there's not much time for me to sit around with a heating pad plugged into the wall....TheraPearl's Back Wrap allows me to get relief from my lower back pain while still getting things done around the house. The back wrap is quite large (17 in x 6.75 in) which is perfect for covering large painful areas. It has a very nice adjustable strap to keep it in place. I have been very impressed with TheraPearl's Back Wrap! You can use it as cold therapy by chilling it in the fridge or freezer or as Heat therapy by sticking it in the microwave. The pack retains it's temperature for a full 20 minutes which allows for some great relief!
The Back Wrap is non-toxic and is latex-free, lead-free and BPA-free.
TheraPearl
has a wide variety of wraps: they have knee wraps, shin wraps, eye masks, neck wraps, face masks, TheraPearl Pals which are colorful, kid-sized animal friends that calm and comfort as they heal. Kids love to play with the packs so much, they won't fuss or fidget! These pals are sooo cute, I just had to add a picture of a couple of them.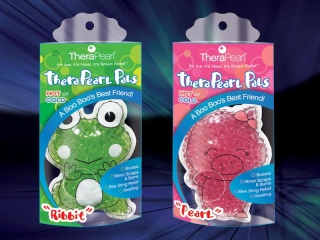 They even have TheraPearl Koozies to keep your beverage cold and your hands dry!
You can connect with TheraPearl via their website
TheraPearl.com
on
Facebook
and on
Twitter
.
If you "Like" TheraPearl on Facebook, a coupon code will appear for your first purchase!
This post may contain an affiliate link. See my Disclosure Page for more information