Roaring Spring Company is one of the largest independently owned producers of school and office supplies. Founded in 1887 with a 20 person operation in a small two story brick building to over 250 employees in 400,000 square foot of modern manufacturing and distribution facilities that produce a variety of school and office paper products.
I recently had the pleasure of trying several products from
Roaring Spring Paper
.
I received:
(1) Premium 1 Subject Notebook
(1) Premium 3 Subject Notebook
(1) Premium 5 Subject Notebook
(1) Cross Over Landscape, Portrait & Graph Book
(2) Landscape Wide Pads
(3) Mini Landscape Wide Pads
The Premium Notebooks - environmental paper made from Sustainable Recovered Sugar Cane Fiber! They have perforated edges, durable vinyl covers, heavy duty backs, one double pocket, a class schedule and assignments page. These notebooks are really nice. I love the quality of the paper and the added class schedule and assignments page.
The Cross Over Notebook is really neat! You can use the paper as either landscape paper, portrait paper or graph paper. Backlight creates the grid pattern so the grid pattern lines aren't easy to notice, which is a good thing if you're using the paper as regular notebook paper. If you hold a sheet of paper up, you can't really see the grid lines. But, if you have it down on the notebook itself, you can see them so it's a really handy notebook to have around! This makes your everyday notebook multi-functional!
The mini landscape pads are great for jotting down the notes that I need to keep up with for my job. I received these little things in great colors....pink, purple and blue! What a fun and colorful way to take notes!
My favorite thing about this company though is how dedicated they are to being more environmentally friendly!
Roaring Spring was named 2010 Recycler of the Year!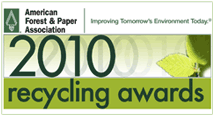 Through recycling, we annually save 25,889 trees, 11 million gallons of water, 4690 cubic yards of landfill space, 6.4 million kilowatts of electricity, and eliminate 93,809 pounds of air pollutants.
You can find them on
Facebook
and
Twitter
.
This post may contain an affiliate link. See my Disclosure Page for more information.